[Taipei, Taiwan] There is always much to anticipate at the annual tech extravaganza COMPUTEX TAIPEI. A world leader in high-end gaming hardware and a mainstay at COMPUTEX TAIPEI, MSI is back with a slew of fully capable gaming machines and components this year. "MSI goes above and beyond to present unprecedented gaming innovations. We are proud to present COMPUTEX TAIPEI visitors with iconic, futuristic gaming rigs that can potentially change the way they game and work," says Eric Kuo, MSI Vice President of Global Sales & Marketing.
On display at the MSI booth will be high-end, VR-optimized MSI GT83/GT73 Titan SLI gaming laptops, groundbreaking Aegis Series gaming desktop, top-performing Gaming 27/24 Series gaming AIOs, highly-appraised gaming motherboards, gaming graphics cards, gaming peripherals, etc. Visitors will also be expecting a rich array of award-winning MSI GAMING Series, including COMPUTEX Best Choice Golden Award 2016 winner GS63 Stealth Pro gaming laptop, COMPUTEX d&i awards 2016 winners GS73 gaming laptop and Vortex gaming desktop. Plus, MSI is kicking eSports experiences up a notch by offering exciting opportunities for visitors to delve deep into VR gaming worlds. Be part of our show to experience the ultimate in VR gaming! Here's the scoop on what you can expect this year from MSI GAMING at COMPUTEX TAIPEI.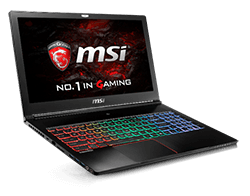 Laptop


MSI GS63 Stealth Pro, the COMPUTEX Best Choice Golden Award 2016 Winner
Weighing just 1.9kg, MSI GS63 Stealth Pro is the COMPUTEX Best Choice Golden Award 2016 winner and the world's lightest gaming laptop that packs a powerful cooling system, extreme computing performance and outstanding gaming features into a 17.7mm ultra slim chassis. The Cooler Boost Trinity on GS63 consists of a total of 5 heatpipes and enhanced Whirlwind Blade fans for effective and silent heat dissipation. Moreover, dual thermal modules make sure that Core i7 6700HQ and GTX970M level graphics are well taken care of independently to ensure maximum gaming performance.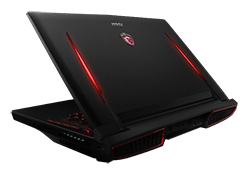 MSI GT83/GT73 Titan SLI, the New Era of VR SLI Platform
MSI GT83 Titan SLI and GT73 Titan SLI are the latest SLI platform design and both fulfill the highest VR Ready standards.
The GT83 Titan SLI has an enhanced Cherry MX mechanical keyboard with multi-color backlighting by SteelSeries. Supporting high-end GTX980 SLI graphics, it is ready to power all VR gears on the market. Better yet, MSI Matrix Display technology supports Surround View Mode, 4K output and up to 3 external displays, delivering an immersive, true-to-life gaming experience. The lightest mobile SLI platform, MSI GT73 Titan SLI supports dual GTX 980M SLI graphics, faster than a single GTX 980 graphics chip. Remarkable graphical power makes the GT73 Titan SLI a powerful VR gaming laptop as well as an awesome machine to play games at 4K settings under 3-monitor Surround View Mode.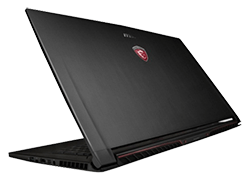 MSI GS73, the COMPUTEX d&i Awards 2016 Winner
MSI GS73 utilizes high density aluminum alloy to form the main body. The delicate brushed metal mixed with elegant full-arc shape evolves new gaming style. With mobile GTX 970M level graphics and Cooler Boost Trinity cooling solution, the GS73 reliably delivers stellar performance in the heat of battle. Moreover, it comes equipped with powerful gaming features, including SteelSeries gaming keyboard, SteelSeries Engine 3 software, True Color Technology, ESS SABRE HiFi Audio, Nahimic Audio Enhancer and more, all in an ultra slim chassis.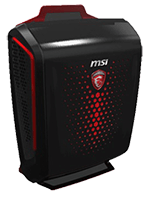 Desktop


Experience Greater Mobility in Virtual Reality with MSI Backpack PC
MSI unveils a breathtaking Backpack PC powered by high-end Intel® Core i7 processor and NVIDIA® extreme level GTX980 graphics card. Free from the restraint of a fixed VR platform, users get to move around and enjoy VR with big movements and total immersion. No more worries about accidently unplugging the wires between the VR device and the platform. MSI Backpack PC renders greater mobility and freedom for VR gaming.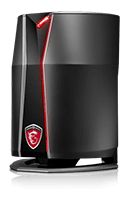 MSI Vortex, the COMPUTEX d&i Awards 2016 Winner
Potent yet small, the MSI Vortex is only about 6.5L and comes packed with a desktop Intel® processor, dual NVIDIA® GeForce® GTX 980 SLI graphics for incredibly smooth gaming experiences, and a 360° Silent Storm Cooling design for superior performance under the most intense gaming sessions.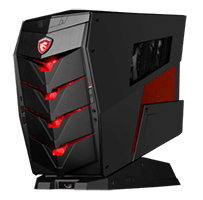 Harness the Power of Gaming with Aegis Series Gaming Desktop
The latest MSI Aegis Series gaming desktop packs a powerful unlocked Intel® Core™ K-series Processor and exclusive overclocking capabilities into a breathtaking 19.6L case. With just a simple push of the Dragon Button on the front, the system speed and performance get amped up 15%.
Featuring the latest NVIDIA® GeForce® GTX graphics, the Aegis can easily handle any graphically intense games as well as the upcoming Virtual Reality games. A special HDMI connector for VR is equipped on the front of the case for easy, quick connection and access of the VR device.
Built to be the ultimate defense and attack platform, the Aegis is designed with a host of gaming features, including Military Class components, Super RAID 4 for up to 3,300 MB/s high speed transmission, Killer LAN solution that makes sure fast and stable network connection for gaming, exclusive Silent Storm Cooling 2 solution to ensure a cool and silent operation, etc.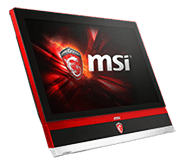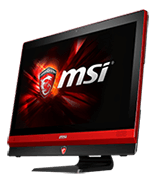 All-in-One PC


Immersive Gaming with Upgraded MSI Gaming All-in-One PCs
MSI is showing a whole pack of Gaming All-in-One PCs, featuring the latest Intel® Core™ i7 and i5 processors, NVIDIA® GeForce® GTX 960M and GTX 970M/980M graphics and a rich array of gaming features specifically designed to deliver the best gaming experience. For the best possible audio output quality when competing online, the latest Gaming 27 and Gaming 24 series feature Nahimic Audio Enhancer, benefitting gaming not only with virtual surround sound, frequency leveler and bass boost, but also with noise reduction and voice leveler when gaming with a headphone. For MSI Gaming 24, the GTX 960M GPU and Wide Viewing Angle technology offer staggering graphics for gameplay. The Gaming 24 with 4K panel (3840x2160p) additionally makes for a complete PC solution for 4K video editing and encoding.
To top it off, all mentioned new Gaming All-in-One PCs come with Killer Game Networking, Headset Master Technology, Super RAID 4 functionality and will be bundled with a 1 year Premium license of XSplit Gamecaster, for gamers who want to show off their skills to the whole world.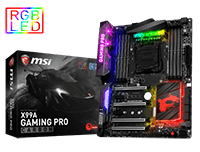 Motherboard


MSI X99A GAMING PRO CARBON, Best RGB LED Motherboard for Gamers
Supporting the latest Intel® processor and the latest version of Mystic Light, MSI X99A GAMING PRO CARBON is sure to offer exceptional performance and personalization of the system. More features include MSI exclusive front USB type C, Turbo M.2 32Gb/s, onboard Turbo U.2, Audio Boost 3 technology, etc. The key highlight of the motherboard, Mystic Light RGB lighting provides more than 16.8 million colors and 17 LED effects for users to show off their personal style.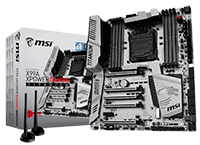 MSI X99A XPOWER GAMING TITANIUM, the Overclocking Champion
Designed with Titanium strengthened PCB and Military Class 5 components, MSI X99A XPOWER GAMING TITANIUM not only means extreme performance but also stands for outstanding reliability and neat appearance. With excellent OC capabilities, the latest U.2 32Gb/s fast storage, USB 3.1 Gen 2 A+C, 4-Way NVIDIA® SLI & AMD® CrossFire technology and more, the X99A XPOWER GAMING TITANIUM is all set to break the overclocking records.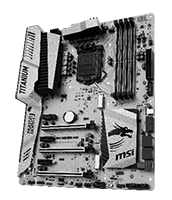 MSI Z170A MPOWER GAMING TITANIUM, the Most Coveted Z170 Gaming Motherboard
Engineered to provide stunning gaming and overclocking experiences, MSI Z170A MPOWER GAMING TITANIUM comes packed with exclusive Audio Boost 3 & the latest Nahimic technology, MSI GAMING LAN & LAN Protect, front USB Type-C, Steel Backplate and a host of exclusive features, making it the most coveted Z170 gaming motherboard.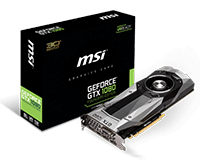 Graphics Card


Witness the Visual Revolution with MSI GeForce® GTX 1080 Founders Edition Graphics Card!
MSI is pleased to announce that GeForce® GTX 1080 Founders Edition will be available in its COMPUTEX demo lineup. With its immense force, this model delivers game-changing performance that is more energy-efficient and astonishingly more powerful than two GeForce® GTX 980 SLIs and last generation's flagship TITAN. COMPUTEX visitors will have the chance to experience a VR live demo powered by HTC Vive.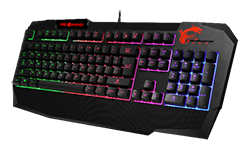 Multimedia
COMPUTEX 2016 also brings forth the unveiling of MSI's new lineup of gaming peripherals, including Interceptor DS4200 GAMING Keyboard, Clutch Series GM40 GAMING Mouse, and stat-of-the-art Focus Eye Tracking.
COMPUTEX TAIPEI 2016 Info
Date: Tue. May 31 ~ Sat. June 4, 2016
Venue: 4th Floor, Taipei World Trade Center Nangang Exhibition Hall
Booth: M0810
MSI VR READY:
http://vr.msi.com
MSI GAMING Products:
http://gaming.msi.com
MSI Facebook:
https://www.facebook.com/MSIHQFANCLUB
MSI Twitter:
https://twitter.com/msitweets