News
MSI Concept Gaming Notebook (GS Stealth) is Best Laptop Award Winner at LAPTOP.com
Lastest Updated: Mon, 20 Jan 2014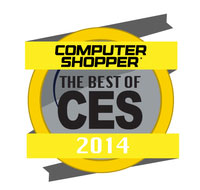 Best Gaming Laptop
Best of CES 2014 Logo

WINNER: MSI GS Stealth (2nd Generation)

The first-generation MSI GS70 Stealth (review coming soon to Computer Shopper) is one of the thinnest and lightest 17.3-inch gaming laptops around. At CES 2014, the company activated PC gamers' drool reflex by previewing the next generation of the rig, which promises to be even more hard-core than the one before.

Besides a "Haswell" Core i7 chip, up to 16GB of RAM, and a full-HD display, players can look forward to up to three mSATA SSDs in RAID 0 plus a hard drive. (A maxed-out config will have almost 1.4TB of storage.) A new Dynaudio sound system will bring four speakers (up from two), plus a subwoofer, while the keyboard (sourced from gaming specialist SteelSeries, as in several recent-vintage MSI machines) gets a new "SteelSeries Engine" software front end, a keyboard-customization suite that governs creating macros and tweaking the key backlighting. The wired Ethernet link still bears the Killer brand, but the Wi-Fi has been updated to Intel's latest 802.11ac-supporting chipset. Expect prices to start at around $1,500.
Full review: http://www.computershopper.com/ces-2014/computer-shopper-s-best-of-ces-2014-awards