(City of Industry, CA) Leading motherboard, graphics card and computer peripherals manufacturer, MSI has expanded its Gaming catalogue with its first Mechanical Gaming Keyboard. Built on the popular Cherry MX Red linear switches, the MSI GK-601 provides superb feedback and sensitive key response. In order to deliver the highest quality standards in keyboards, each key on the MSI GK-601 is created with precision laser etching for extra resistance to wear and uses 18K gold plating to increase the stability, while N-key rollover makes sure that every key-press registers. A rare yellow LED backlights each individual key, even after 50 million keystrokes per key making the keyboard excellent for use wheher during day or night. With a massive 128KB of memory, 50 different macros can be stored to help you out in any gaming situation. High speed USB ports and audio and microphone jacks make this THE keyboard every gamer needs. MSI also releases the Classic Series Keyboard with Cherry MX Red linear switches and an ergonomic design which brings the best experience for office or general users.
 
| | |
| --- | --- |
| | |

Professional Software, Macro Configuration and Advanced Key Press Technology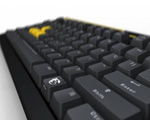 A gamer's response time is faster than average and a progamer's hand-eye coordination exceeds that that of fighter pilots. But, not everyone is blessed with finger speed of a concert pianist. That's why the MSI GK-601 comes with dedicated software that records 50 macros that allow you to perform in-game tasks at lightning speed, perform monotonous tasks with the press of a button, or have pre-defined taunts ready to show your opponents how you've just beat them! The GK-601 comes with 128KB of internal memory for macros and hot-keys. This is twice the amount of memory of other brand's high-end gaming keyboards. Stored macros can also easily be exchanged between different systems.

Smart Hotkeys and Premium Wiring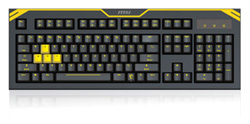 All keys and connectors are 18K gold plated and use military-grade close-woven wiring. This drastically increases the durability and lifetime of the keys and ensures there is no signal corruption, thus improving latencies leading to faster controls. Importantly, the Windows button can even be disabled to prevent in-game interruptions due to accidental key presses. This prevents tons of frustration or difficult system hacks to disable this Windows button function. The use of high-end USB N-key Rollover technology ensures immunity to key ghosting and blocking. Finally, a set of Multimedia hotkeys allow for quick volume adjustments and playback control.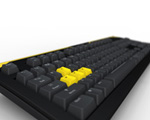 Independent LED Backlighting and Laser Etched Key Caps
The MSI GK-601 uses a relatively rare backlight technique consisting of yellow LEDs with four levels of brightness. This helps gamers see every key in the dark and make their moves with ease. The breathing lights function adds a layer of mystery and tension. Precision laser etching and rigorous testing ensures that every key cap can withstand the relentless pounding of gamers without becoming worn or faded.

e-Sports Ergonomics
The MSI GK-601 is laid out with the world standard 104-key layout. The ergonomic and rugged key press structure prevents player discomfort even after extended use. The MSI GK-601 also features highlighted WASD keys, two high-speed USB ports, audio out and microphone jacks, as well as anti-skid feet. The quest for the best possible gaming keyboard has reached its final destination with the high quality, convenience and expandibility these keyboards offer.