Aperture Gaming is a competitively structured managed-gaming organization representing in the following titles: BF4, CS:GO, DOTA 2 and COD:AW.
Aperture Gaming was founded in October 2013 by Theuns "Alpha-Renji" Louw. We are a South African based Competitive Battlefield 4 team competing in multiple leagues and competitions. Having claimed our first DGC title in 2014 for BF4, we are looking to make this the start of a very successful gaming career for all members involved.
We make professionalism, respect and maturity our core values and proceed to invest in the local gaming community by always helping out new and lesser experienced teams where we can.
Source: https://www.facebook.com/pages/Aperture-Gaming/1376285569279546?sk=info&tab=page_info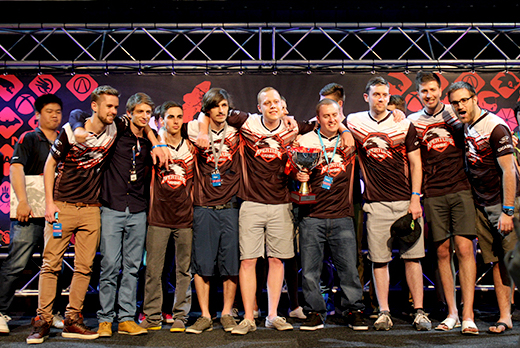 ApG.Apollo proudly claimed the title of BF4 2014 DGC Champions
<img alt="4_ApG" class="alignnone size-full wp-image-13617 img-responsive" sizes="(max-width: 600px) 100vw, 600px" data-cke-saved-src="//asset.msi.com/global/picture/game-team/aperture-gaming/4_ApG.jpg" src="//asset.msi.com/global/picture/game-team/aperture-gaming/4_ApG.jpg" "="">
Major Achievements
Battlefield 4
1st – 2015 Crucial 5v5 CUP (BF4)
3rd – 2015 ESL 5on5 Domination Cup #1 South Africa (BF4)
1st – 2014 rAge Telkom Gaming Championships
1st – 2014 Mweb Geotech 5v5 First Recon Tournament
2nd – 2014 Telkom Gaming Battlefield 4 5v5 Online Finals
1st – 2014 Telkom DGL Battlefield 4 5v5 Open Division
2nd – 2014 Telkom DGL Battlefield 4 Insta-Clash Nov
1st – 2014 Do Gaming BF4 – Open Division
Counter-Strike: Global Offensive
6th – 2014 rAge Telkom Gaming Championships
2nd – 2014 Telkom DGL CS:GO – Winter Leg – Premier Playoffs
4th – 2014 Telkom DGL CS:GO – Premier Division – Summer Leg
1st – 2014 March Cup: CS:GO Operation Madness
2nd – 2013 Do Gaming CS:GO Championship Playoffs
1st – 2013 Do Gaming CS:GO Winter Leg Premier Playoffs
1st – 2013 Do Gaming CS:GO First Division Winter Leg Tie Breaker Round
1st – 2013 Do Gaming CS:GO First Division Winter Leg
2nd – 2013 Do Gaming CS:GO League Group Stages
1st – 2012 Do Gaming – Ready.Set.GO! Cup Group Stages
Source: http://www.dogamingleague.co.za/clan/apg?_ga=1.156568059.1560142086.1431006979