Live Update 6 Instruction
Download Live Update 6
Live Update 6 supports the following MSI product lines and items:
Motherboards: Drivers / BIOS / Utilities;
Graphics Cards: Drivers / BIOS
Do NOT use Live Update for AIO PC and Notebooks.
1.After installation and launch Live Update6, you will see the main page of Live Update 6 - [Live Update]. System information will be displayed at the bottom of this page, includes the last scan date.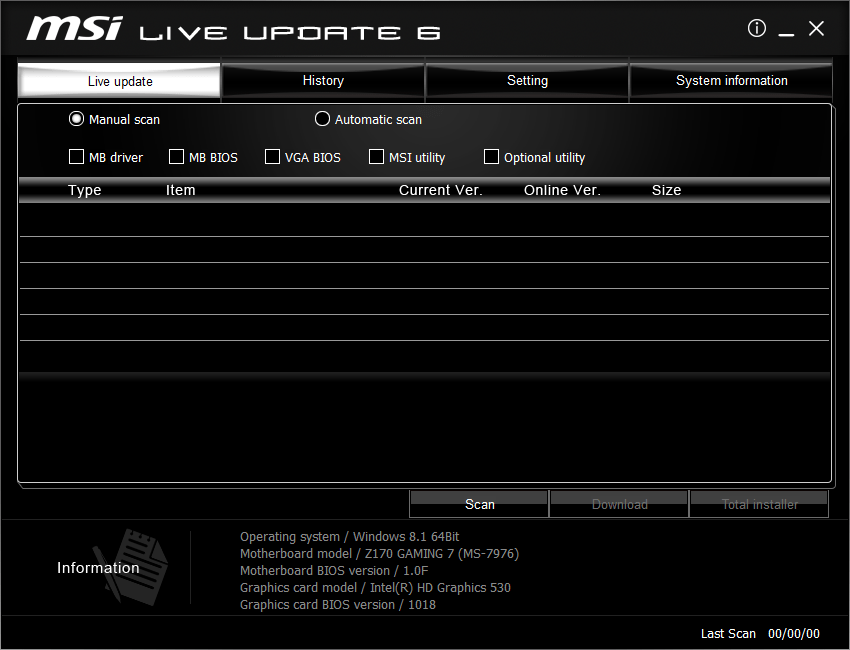 2.At [Live Update] page, there are two ways to scan update items, includes [Manual], and [Automatic Scan]. Choose [Automatic Scan], system will automatically scan all the items and search for the latest update files. Or you can choose [Manual] and select the items you wish to scan.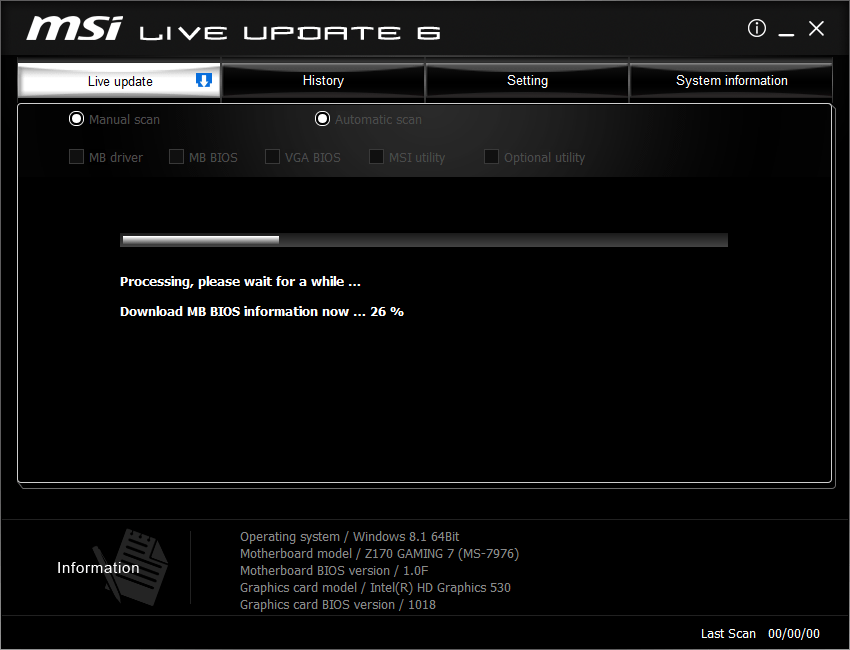 3.After the scan is finished, please refer to the underneath column for search result. Uninstalled items and items with newer version will be listed in this area. Please click the

icon for item information and

icon to download and install. Or, you can select the items you wish to install, and click the [Download] button to download.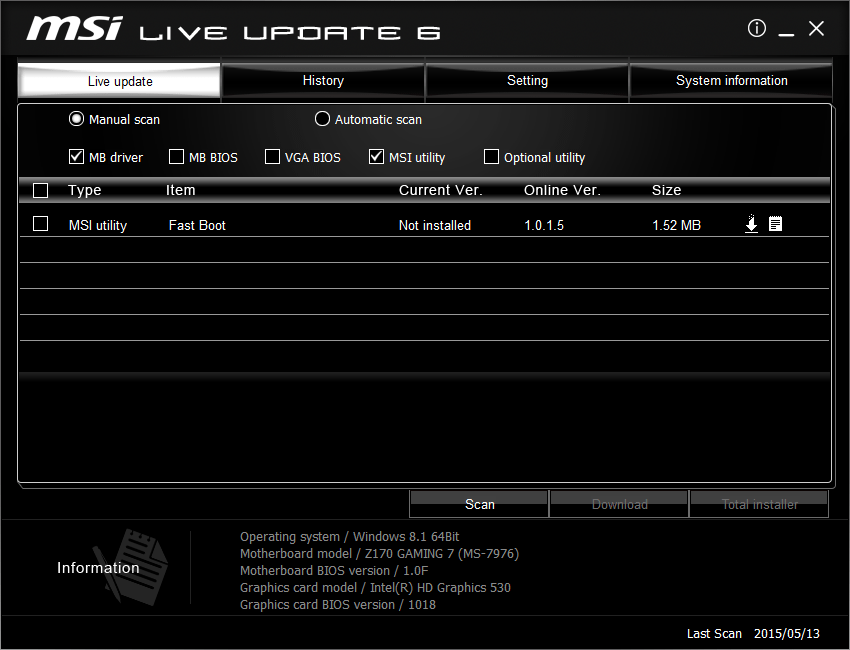 4.At [History] page, you will see the download history record. Click the

icon to see detail information.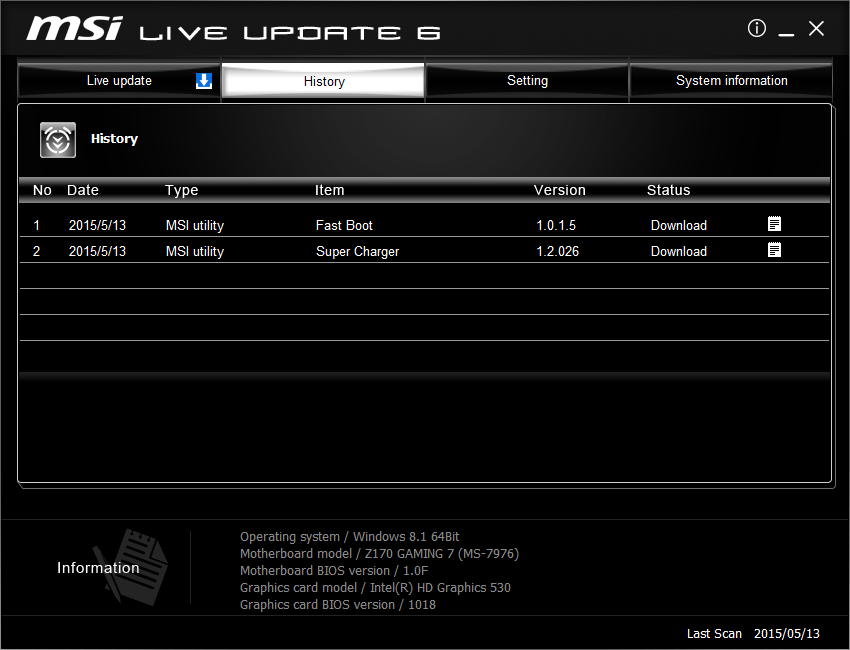 5.At [Setting] page, you can set a proper time for Live Update reminder in order to keep your system in the updated environment. The default frequency is every month. Live Update reminder will remind you to do system scan and update according to your frequency setting. Click the [Apply] button to save the settings.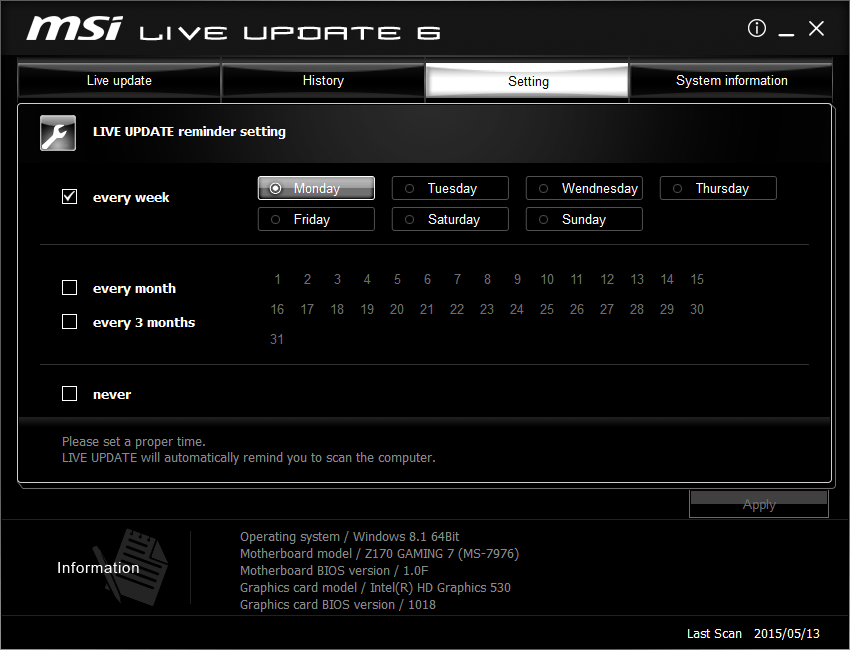 6.Live Update 6 Reminder will automatically pop up at the reminding time. Choose [Yes] or [No] to do update. Choose [Remind me later] or [Never remind me] for the reminder setting.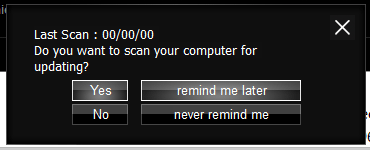 7.At [System information] page, you can see all installed drivers and applications, when you click [Scan] button.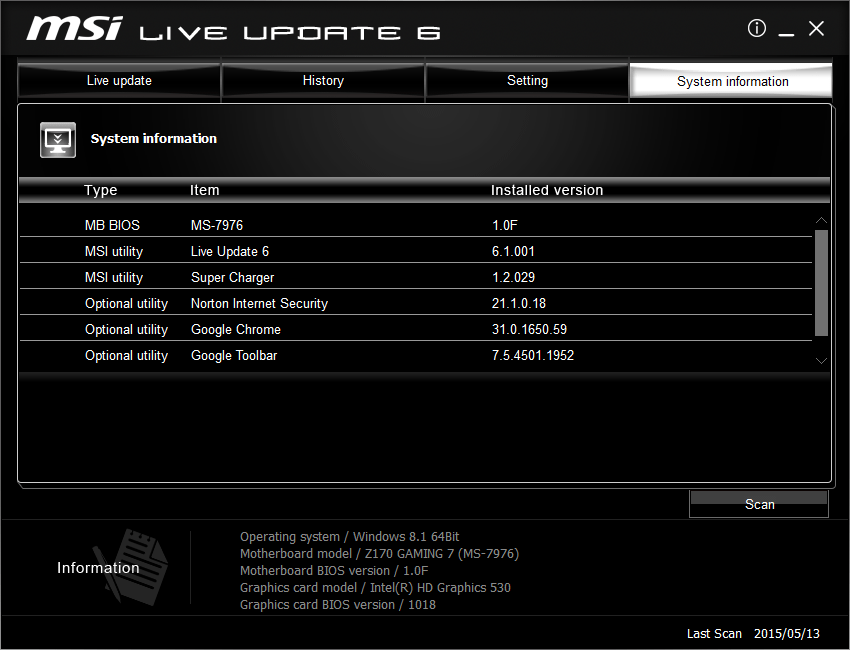 8.At [ i ] button, you can see [msi website], also the Live Update 6 version.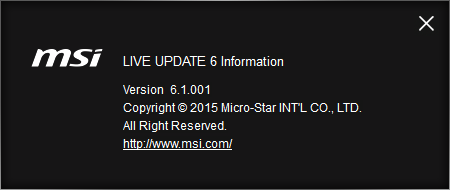 BIOS Flash Instruction:
| | |
| --- | --- |
| 1 | Choose the [download and install] icon to download the MB BIOS. The MSISetup will automatically start up after download. Click the [Next] button at the following page. |

| | |
| --- | --- |
| 2 | There are two ways to flash BIOS. Default setting is [In Windows mode], and click [Next] to finish BIOS update. |

| | |
| --- | --- |
| 3 | Choose [In Dos mode (USB)], and click [Next]. Then BIOS will be downloaded to USB pen drive. |

| | |
| --- | --- |
| 4 | Insert the USB disk to make USB boot disk, then choose the target drive from the drop down list. |




| | |
| --- | --- |
| 5 | After click the [Next] button, the system will pop up to ask "All data on drive will be lost, are you sure?" Choose [OK] to continue, or [Cancel] to cancel the process. |

| | |
| --- | --- |
| 6 | After click the [OK] button, the system will start to do the USB boot disk. The processing time will depends on the size of the USB disk. For a USB disk with 4GB will take around 1 minute. A pop up message "USB bootable disk has been created successfully!!" will show up when finish. |

| | |
| --- | --- |
| 7 | Click [Start] to restart the computer. Click [Cancel] to cancel the restart. Click [Back] to go back to the previous step |

| | |
| --- | --- |
| 8 | After restart, please set the computer to boot from USB. When the computer restarts from USB, please follow the instruction to update BIOS. |

| | |
| --- | --- |
| 9 | There are two ways to flash BIOS. Choose [In Windows mode], and click [Next]. |

| | |
| --- | --- |
| 10 | Choose [Close all listed programs], then click [Next] |

| | |
| --- | --- |
| 11 | Click [Start] to start flashing BIOS. The system will restart when the process is complete. |